Reading for the Law – Law Office Study Blog
Experts teaching eachother and pupils the law with or without law school.
Learning to Be a Lawyer With or Without School
Welcome to Law Office Study.Net. This is the place you go when you want to become a lawyer, with or without law school. But if you or a friend is considering going the "Abe Lincoln route" by reading for the law as an apprentice, you should learn from those that have already done so. If you're at this site, you'll learn from Law Office Study Graduate Professor Michael Ehline and our invited guests. Ehline has built his reputation from the ground up.
Ehline is our resident professor at lawofficestudy.net. We built this site to teach, motivate and inspire those considering reading for the law. Lawofficestudy.net has built a database of relevant information and study tools on how to become a lawyer– both conventionally and unconventionally. You'll also be able to share your experiences with others in our forums, like study outlines and bar prep help.
We also provide a membership directory of professionals and students. The resources we source here provide major advantages to law students both in the United States and other nations that follow English Common Law precedent.
Why Do Practicing Attorneys, Law Professors, and LOSP Enrolees Benefit from Our Resources?
Whether or not you're currently a student in a Cal Bar or ABA Certified law school or reading for the law during a Law Office Study apprenticeship, lawofficestudy.net can help. Here you will learn and share your helpful information with others.
Supervising, practicing attorneys and even law school professors have a real opportunity to understand apprenticeship's value and how to administer them effectively. One main difference with LOSP is that there is no standardized teaching method. So learning what to do from lawyers who already teach students in the Law Study Program is very helpful for a practitioner buried up to his or her eyeballs and elbows in work.
The typical law professor's work is teaching full-time. Most are dedicated to teaching in a classroom setting. Few actually Practice law. Conversely, supervising attorneys remain sort of like adjunct professors, but their classroom field days can take them anywhere the lawyer needs to be.
Apprentices are often in the thick of things, headed to court, depositions, dictations, visiting clients in jail, and dealing with unforeseen events. Attorneys are busy practicing law. Here you will learn what supervising lawyers face, and they will learn how to deal with what you face.
Will Students In Law Schools Benefit From LawOfficeStudy.Net?
Regarding law school people, we believe you can gain invaluable experience from studying in a law office. So we hope you'll be inspired by lawofficestudy.net and encouraged to volunteer some time in a law office. Upon graduation, I know for a fact this will give you an advantage over the rest of your class. Hands-on experience in the office and the courtroom is second to none, especially in the job market in California and elsewhere.
Can LawOfficeStudy.Net Help Me Pass The Baby Bar and Traditional Bar?
It's not just LOSP apprentices who have to take the notoriously difficult First Year Law Student's Exam, aka "Baby Bar" after their first year of law study. Some students with no undergrad apply to unaccredited schools after taking and passing the CLEP.
They don't always get accepted into a Certified Cal Bar School or ABA school. These students are left with scant resources on how to study for, or pas the BabyBar with its Contracts, Torts, and Criminal Law topics.
On the other end of the spectrum, there may be Harvard Law Grads who are taking the bar for their second or third try. Law schools don't teach to the bar. So even a genius who is not armed with the secrets we teach will have a hard time passing this problem-solving speed exam. Our staff and volunteers are here to provide any help they can give. If you are feeling down, crushed, depressed, suicidal, or simply ready to give up, don't despair. LawOfficeStudy.net is your island in the desert.
Take the Experienced Path
Ehline's experience can be used to assist you in moving forward. After exiting the Law Office Study Program, Ehline created this video to provide more insight into the process.
That video and other media opened the floodgates of calls, emails, and office visits asking for advice. Although constantly busy in the courts, Ehline wanted a way to give back. He uses recent technology, such as Google Hangouts on Air, podcasts, YouTube, and other social media to get the message to as many people as possible.
When you are ready to ask questions and get answers from someone that's been through the process, contact Michael, and we can work together on expanding the study of law on the internet.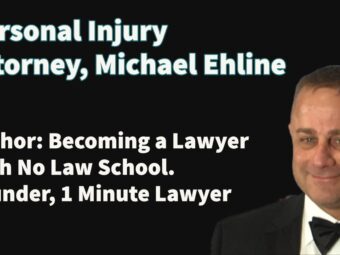 States You Can Become A Lawyer Without Law School in 2023
Yes. The truth is, states you can become a lawyer without law school or an undergrad are few and far between. Few states allow applicants to skip any formal education. I am Los Angeles personal injury attorney Michael Ehline. I do not presently teach students in the program, but you can go to www.lawofficestudy.net to… Read More »

States You Can Become A Lawyer Without Law School in 2023
"… this is the most comprehensive, historically accurate site I have ever seen. I was able to learn the history of American Common law and everything I needed to make the right choice! If you want to get ahead in life, learn the law from LawOfficeStudy.Net."

"I was considering traditional school, but I see academia as a leftist reeducation camp and don't want to be cancelled by my professor for being a free thinker. Definitely recommended for women who don't worship the state"